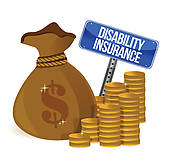 General Purposes of Disability Insurance
While many Americans insure their lives and material assets, like their homes, cars, ect., many overlook the need to protect the most valuable asset - the ability to earn an income.
Insurance claim studies indicate that the odds of becoming disabled for 90 days or longer are much greater than dying during one's working years.
What To Look For In A Disability Insurance Policy
The Definition of Disability: Are education, experience and past earnings taken into account in determining whether the insured is qualified to resume work? Many policies provide for an initial "own occupation" definition of disability, for a specified period of time, after which a different definition of disability applies.
Partial or Residual Benefits: Partial or residual disability benefits may be paid in some policies when the impairment allows the insured to perform only a portion of his or her duties. This provision may also pay benefits in the event the disability reduces the insured's income by a certain amount (for example, 20% or more) from pre-disability levels.
Cost of Living Adjustment: Is there a cost of living adjustment (COLA) which would increase benefit payments after a disability occurs?
Cancelability and Renewability of Policy: Except for the nonpayment of premiums, is the policy "noncancelable" or "guaranteed renewable"? Noncancelable generally means that the policy can be renewed each year at a fixed premium, for a specified time period. Guaranteed renewable is similar, but allows the insurance company to increase the premium.
Waiting and Elimination Period: Is the waiting or elimination period proper for the insured's circumstances? Commonly available periods include thirty, sixty, and ninety days, six months, and one year. Naturally, the longer the elimination period one selects, the lower his or her premium payments will be. However, a person's needs, cash reserves and income sources should be the deciding factors in selecting a proper elimination/waiting period.
Benefit Period: What benefit period should be selected? A long-term medical disability can be financially devastating. Therefore, one should select a long-term benefit period where possible. Most companies offer coverage to age 65 or age 67, while some offer lifetime benefit periods. The longer the benefit period, the higher the cost.